Morvillo Abramowitz Wins White Collar Crime Firm of the Year Benchmark Litigation Award – Northeast Region
February 1, 2013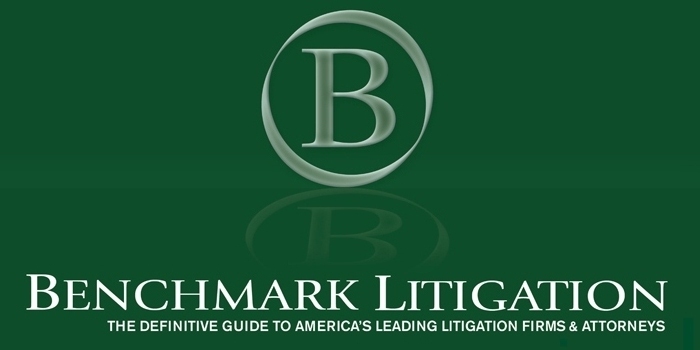 NEW YORK, February 1, 2013 – Morvillo Abramowitz Grand Iason & Anello PC, a leading New York litigation boutique, was awarded the Northeast White Collar Crime Firm of the Year Benchmark Litigation Award, recognizing the Firm's prominence in white collar criminal defense, securities enforcement, and government investigations, at a ceremony held last night, January 31, 2013 at New York's Essex House Hotel.
"Peer review conducted during the research cycle for the 2013 edition of Benchmark overwhelmingly spoke toward the depth and prestige of Morvillo Abramowitz's white-collar practice," says Anne Szustek, deputy editor of Benchmark Litigation. "The firm's defense practice hits a sweet spot between having its clientele keep a low profile while having a case load of matters too influential not to make headlines."
In September 2012 the firm was recognized as a top, Tier 1 national firm in white collar criminal defense by Benchmark Litigation 2013, the Guide to America's Leading Litigation Firms and Attorneys. Elkan Abramowitz, Robert Anello, Paul Grand and Lawrence Iason were also ranked as national stars by Benchmark Litigation for their white collar defense work. The firm also ranked as highly recommended in New York, with Elkan Abramowitz, Robert Anello, Paul Grand and Lawrence Iason listed as stars and Stephen Juris listed as a future star.
Benchmark Litigation, published by Euromoney Legal Media Group, is the only publication on the market to focus exclusively on litigation in the US. The guide's results are the culmination of a six-month research period that allows researchers to conduct extensive interviews with litigators and their clients. This is the first nationwide awards event that the publication is hosting. The awards follow similar successful events held by Benchmark's sibling publications International Financial Law Review, International Tax Review, and Managing Intellectual Property.