Morvillo Abramowitz Gets Top Ranking in White-Collar Crime & Government Investigations in Chambers USA 2023
June 1, 2023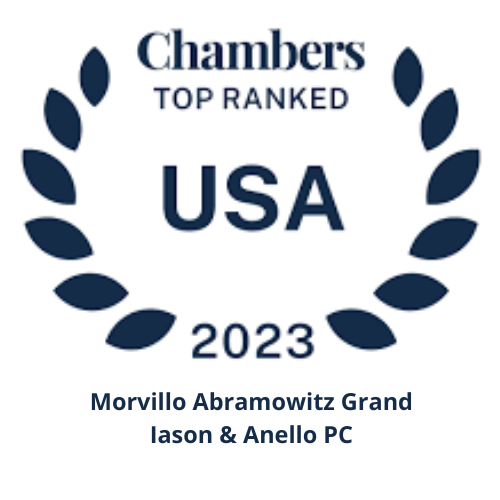 For 19 consecutive years, Chambers USA Guide to America's leading lawyers and law firms has recognized Morvillo Abramowitz Grand Iason & Anello PC for excellence in the category of Litigation: Specialist Firms in White-Collar Crime & Government Investigations and has, once again, awarded the coveted top-tier ranking of Band 1 to the firm. We continue to receive Chambers Nationwide recognition in the category of Securities: Regulation: Enforcement and in Chambers Global 2023 Guide for FCPA practice.
Chambers USA writes,"They have an incredibly deep bench and are very adept at dealing with any situation."
Chambers USA highlights our firm as "widely acclaimed for its market-leading white-collar defense practice" and emphasizes our "impressive breadth of expertise in regulatory investigations and enforcement proceedings." Notably, our firm "fields a deep bench of formidable litigators with experience with acting on some of the most high-profile criminal trials of recent times…"
Twelve of our seventeen partners were named leading lawyers by Chambers USA and Chambers Global across three separate categories.
In the category of Litigation: White-Collar Crime & Government Investigations, Elkan Abramowitz (Senior Statesman), Richard F. Albert, Robert J. Anello, Benjamin S. Fischer, Brian A. Jacobs, Telemachus P. Kasulis, Robert R. Radick, Jonathan S. Sack, Jeremy H. Temkin, Richard D. Weinberg and Kate Cassidy were all recognized. In the category of Securities: Regulation: Enforcement, Lawrence Iason and Richard D. Weinberg were recognized. Robert J. Anello was recognized in Chambers Global in the category of FCPA.
Since 1990, Chambers and Partners has been researching the legal profession, identifying the leading lawyers and law firms through in-depth and client-focused interviews with thousands of lawyers and their clients. Known for its independence and the objectivity of its research, Chambers USA ranks the leading firms and lawyers in an extensive range of practice areas with their guides read by industry-leading companies, organizations, and law firms throughout the United States and worldwide.
Morvillo Abramowitz and Morvillo Abramowitz attorneys are ranked in Chambers USA Guide 2023 and Chambers Global Guide 2023. This award is conferred by Chambers and Partners. A description of the selection methodology can be found here. No aspect of this advertisement has been approved by the Supreme Court of New York.