Morvillo Abramowitz Named Global Business Crime Defense Law Firm of the Year
May 31, 2012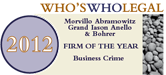 Who's Who Legal Awards has named Morvillo Abramowitz Global Business Crime Defense Firm of the Year.

Who's Who Editor-in-chief Callum Campbell said, "Morvillo Abramowitz stands out as the world's leading firm in this discipline, and the caliber and expertise of its lawyers are globally recognized by clients and peers alike."

Described as universally acknowledged to be a white collar criminal defense 'powerhouse', Who's Who Legal notes the firm 'sets the standard' with an impressive number of lawyers selected for their outstanding white collar crime practices:
Winners will be formally announced in The 2012 International Who's Who of Business Lawyers 100, a compendium edition of all the individual Who's Who Legal publications, which covers 31 practice areas and more than 100 countries, scheduled for release in June 2012.

The Who's Who Legal Awards selections are based on general feedback received in their independent research process, past performance in the research and the overall aggregate number of weighted votes cast in each firm's favor. Individual lawyers are nominated by clients and fellow legal professionals.

Who's Who Legal is the official research partner of the International Bar Association and strategic research partner of the ABA Section of International Law. In 2012, Who's Who Legal's parent company Law Business Research was recognized for the second time by The Queen's Award for Enterprise in the area of international trade. These awards are the most prestigious a British company can receive. For more information on Who's Who Legal and the Who's Who Legal Awards, please visit http://www.whoswholegal.com/.